Mono Next and subsidiaries has always highlighted the importance of business operation along with social responsibility. The Company has shaped our policies toward the management under good corporate governance and adhered to morality and the business code of conduct, consideration of stakeholders, and business operations on the basis of responsibility for society, community, and environment. The Company has supported business units and staff to bring out their potential and ability to develop our business and society. Cooperation has been given to networks of all sectors including government and private to create highest benefit for the country and to establish a strong and sustainable growth for the organization.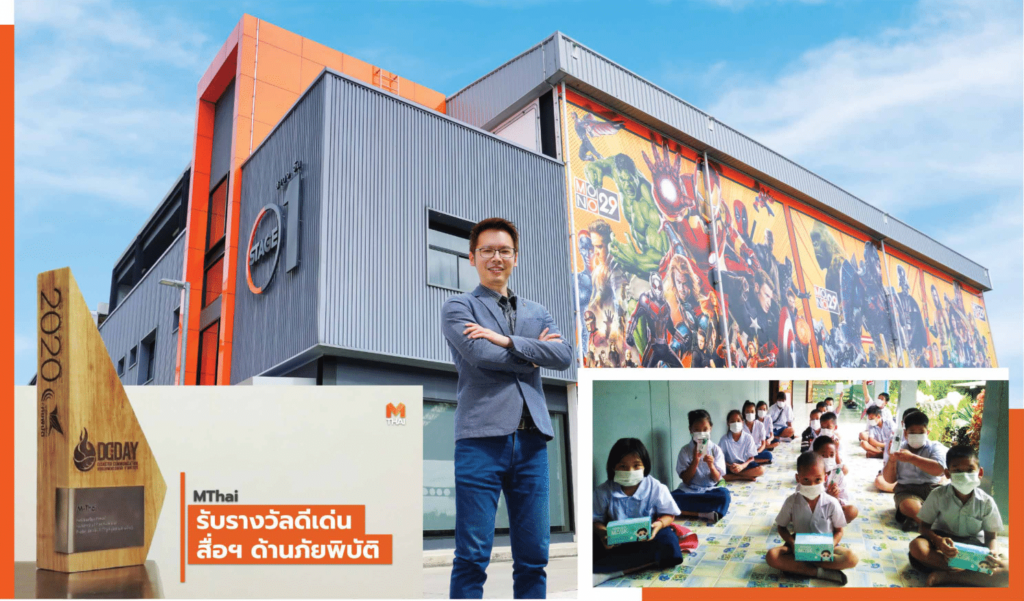 Mono Next and subsidiaries has set the plan for the operation on corporate social responsibility according to 8 principles of the Stock Exchange of Thailand with details as follows:
      1. Fair Operation Practice
Mono Next and subsidiaries business operation is based on the principles of ethics and fairness. The Company has stipulated policies including corporate governance policy, business code of conduct, code of conduct for directors, executives, and employees, internal control system as well as transparent and accountable risk management which concerns about stakeholders. This standard is also applied to taking the responsibilities towards customers, presenting quality products and services, practicing fair treatment on business competition and trade agreement with alliances/ business partners, and providing complaint channels for stakeholders in case of any unfair treatment.
      2. Anti – Corruption Practice
The Company has always determined to fight against all forms of corruption by certifying the membership of Thailand's Private Sector Collective Action Coalition Against Corruption or CAC since the third quarter of 2016. In the second quarter of 2019, the Company received the membership extension and certified a membership of CAC for the second time with another three years membership duration. As in 2020, there was no report or any act of corruption.
The Company has committed to transparent business operation under good governance. Policies and practices on anti-corruption are established and communicated to executives and employees through internal communication via intranet website. Employee training and orientation for new employees are also performed continuously.
The Company provides complaint channels to file complaints and blow whistle on suspected act of corruption of employees and stakeholders. For communication, the Company informs business partners about the policy on giving and accepting gifts with details published on the Company's website under subject "Corporate Governance". In addition, being a media business operator enables the Company to support the government sector in presenting news and promote good sense of social responsibility. Regarding internal control process and risk management, Audit Committee and Risk Management Committee have been established to monitor the activity of risk management to the level of satisfaction in sales and marketing, purchasing, contracts, and human resource management. In accounting process, verification and inspection by the internal control unit is practiced regularly.
      3. Human Rights
The Company adheres to the principles of equality and human rights which are considered the fundamental rights and reassures that directors, executives, and employees perform their duties with realization on human rights, duties, and responsibilities of their own and every stakeholder. The Company also values equality by supporting non-discrimination on races, nationalities, religions, skin colors, genders, etc. The human resource management methodically takes care of this issue, maintains fair working condition, and respects employees' opinion. Moreover, security system for personal information collection of employees and customers has been created by concerning about non-violation of personal information or illegal exploitation of other people's information.
      4. Equitable Treatment of Labors
Despite the reorganization in work process and organizational culture, Mono Next and subsidiaries still places importance on employees by taking care of compensation and welfare which includes security, occupational health and safety, performance assessment, personnel development, career path, etc.
Compensation and Welfare Management Policy
The Company manages compensation and welfare under the requirement of labor laws. The compensation is paid upon agreement with the amount that is not lower than the minimum wage. The Company provides incentive based on each employee's performance and the noticeable success of long term targets of each unit. Besides, extra welfares are fully provided for employees to promote security, health, and happiness, for example, provident fund contributions, insurances for life, health, and accident, sport club, loan, and recreation upon circumstances. In mid-2020, the Company's headquarters moved from Jasmine International Tower on Chaengwattana Road to MONO29 Studio on Chaiyapruk Road. In this regard, the Company provided transportation vans for employees to travel from the former office to the new one in the morning to work and in the afternoon after work.
Occupational Health and Safety Policy (OHS)
The Company has already adapted to a new working style "Work from Anywhere" in order to allow staff to comfortably perform their tasks anywhere. The necessary equipment and technological systems are provided for any database access and smooth operations relating to the New Normal working concept, nevertheless, maintains connection via online meeting for effective follow-up.
"Co-Working Space" office renovations creates modern and nature-friendly environment that enhance boundless creativities and effective cooperation between sectors. In 2020, the measures to prevent the spread of Coronavirus 2019 (COVID-19) were strictly followed. Some of the measures include limiting number of staff entering the office, recording name of visitors, measuring body temperature, providing alcohol gel, keeping social distance, instructing staff to always wear facial masks while working in the office, spraying disinfectants regularly, and supporting Work from Home to reduce the risk, etc.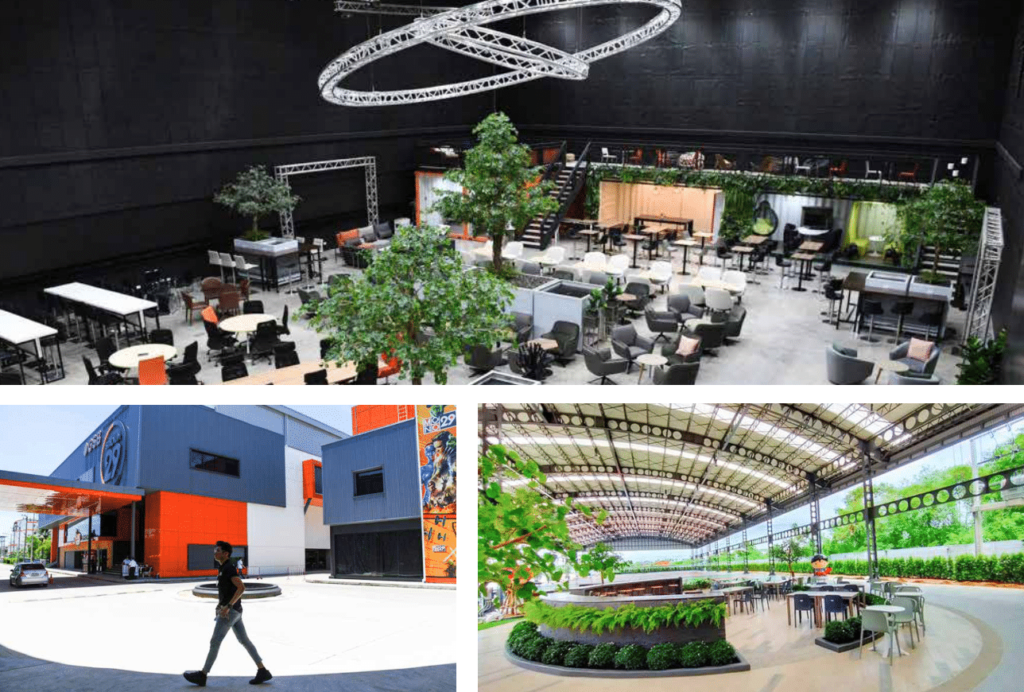 The Company provides occupational health, safety, and working environment policy in compliance with the laws, international standards, and other regulations. Workplace management and knowledge and moral building such as basic firefighting and evacuation fire drill training are also provided for employees. By promoting the participation in the implementation of OHS practices, the Company deems that OHS activities are responsibilities of every employee to collaboratively create a good work environment. Regarding this issue, there was no report on any accident or injury related to work in 2020.
In addition, the Company provides communication channels for employees to report problems and file complaints through responsible unit of each matter. Malpractices within the Company can be reported to supervisors according to the work level or the human resource department either in word or writing. The Human Resource Department and the Board of the Company will find out the truth to resolve the problem or punish the wrongdoers. Nonetheless, the Company will safeguard the whistle blower by concealing his/her information as well as protecting him/her from the effect on work status.
Personnel Development Policy  
The Company continuously highlights the policy of being the "Organization with Development and Learning Focus" by enhancing employees' potential in terms of knowledge and ability as well as embedding corporate culture and ethical values. The Company formulates the development programs for employees based on the following processes.
– Learning through Practical Experiences: Coaching and passing on experiences from supervisors to new employees, or on the job training, will lead to an actual self-development. Initiating new ideas and actions is also supported.
– Knowledge Stream by Expert Personnel: Regardless of position and level, every employee with will be offered opportunity to pass on their knowledge and share their experiences. Three approaches which are Tutor Model, Buzz Model, and Note Model will be selected according to the content and the expertise of the lecturer.
– Evaluation: Mono Group promotes opportunities for supervisors and colleagues to coach and consult during meetings and evaluation period. This process will allow the team to share ideas, comments, and advice that benefits collaborative work.
– Education: Mono Group's training courses are arranged in compliance with the requirement of each department. Moreover, the Company is ready to provide training programs according to employees' interests as well as create knowledge management tools that will support and further develop their work skills continuously.
According to the COVID-19 pandemic and to be consistent with the New Normal working concept, the Company considered appropriate development plans as follows.
Virtual Class (70%) provided classroom simulations, online instructors, group works, and workshops to learners which were similar to the actual classes.
Online Class (30%) provided courses with stable contents on knowledge, instructions, working procedures, and techniques which are accessible any time.
In 2020, the Company's budget allocated on personnel development was approximately 87,000 Baht and 94.75 percent out of all employees participated in the personnel development programs.
      5. Accountability to Customers
Mono Next and subsidiaries continuously gives importance to the responsibilities towards customers in 2 aspects: information media, customer and consumer service.
Information media involving the distributions of reliable and accurate knowledge and entertainment as well as reports on facts with code of conduct, are considered prior responsibilities towards customer as a leading information and entertainment provider; for instance, MThai, a media of the Company, is regarded as media with quick pace and professional ethics. Moreover, the team received appreciation from the Crime Suppression Division as one of "Thailand Team" from the mass shooting incident in Nakorn Rachasima. Other awards and achievements are Press Award for Disaster Report from Disaster Communication Development Center of Thai Public Broadcasting Service (Thai PBS), being informative mediator for society and environment such as "Jetsada Bok Toh" – a session in Good Morning Thailand program on MONO29 channel- which provides good, creative, and inspirational stories. The Company also updates the audience on the recent situation of COVID-19 pandemic to every available channel including TV and online.
Customer and consumer service provides the best of advice, complaint solution, and supports relating the products and services. Official unit or responsible person has been set up to support each business such as sales and marketing team, call center, webmasters, social media administrators, technical team, etc.
      6. Support Environment Responsibilities
Due to the office relocation, more technology has been introduced. The internal document management system, for example, approval records, petty cash and advance, and pay slip are all performed online to accelerate the process, save cost as well as encourage employees to use paper wisely and become nature-friendly like using 2 sides of paper, modifying and reusing activity equipment, and classifying garbage. For external environmental conservation activity, the Company held a project on donating clothes for firefighters and volunteers to combat wild fire and cover wounded animals in northern Thailand. Last year, none of the businesses under Mono Next and subsidiaries affected the environment.
      7. Community and Social Development
One of the Company's important missions is community or society development along with the growth of business operation. In 2020, the Company held projects for community or society development as listed:
– Project on MONO CSR Online as an online media helping the society and the environment through "Clickdeetumdee" website and Facebook
– Project on producing a video clip to promote the prevention of Coronavirus infection 2019 (COVID-19) for the Department of Health
– Project on MONO Volunteers which executives, employees, and newscasters collaboratively made 1,200 face shields for hospitals and medical staff in places such as Bamrasnaradura, Department of Disease Control, Siriraj Hospital, and Thasae Hospital in Chumphon
– Project on MONO29 Donation of PPE kits, alcohol based hand sanitizers, and N95 masks for 10 hospitals in provincial areas as follows:
– Bannangsata Hospital, Yala                                           – Patumrachwongsa Hospital, Amnatcharoen
– Sungaikolok Hospital, Narathiwat                                  – Phochai Hospital, Roi Et
– Sunpasitthiprasong Hospital, Ubon Ratchathani        – Thaluang Hospital, Lopburi
– Amnatcharoen Hospital, Amnatcharoen                      – Paholpolpayuhasena Hospital, Kanchanaburi
– Huataphan Hospital, Amnatcharoen                            – Nakornping Hospital, Chiangmai
– Project on the donation of disposable masks for small children totally 3,500 pieces in 20 schools
– Project on the donation of 1.25 liter and 750 ml soft drink bottles for Mahasarakham Hospital to make volumetric spacers for bronchodilator inhalers
– Project on the donation of good books from publishers under Mono Next for hospitals and patients
– Project on the donation of unused objects for The Mirror Foundation, Dr. Phichani Bodharamik Foundation for Children and Seniors, and schools
– Project on the donation of gifts, prizes, and scholarships for Children's Day activities in schools and youth centers in 8 places
– Project on the donation of calendars and present boxes for The Lighthouse Center for the Blind in Nonthaburi
– Project on MONO MARKET, online market for employees and people who used to work with the Company. The market provides another channels for employees to employees to make extra income and encourages them to help each other.
–  The Kathin Ceremony to build a Buddhist temple and shelters for monks and to buy the path to enter Wat Phutthaprommayan in Chachoengsao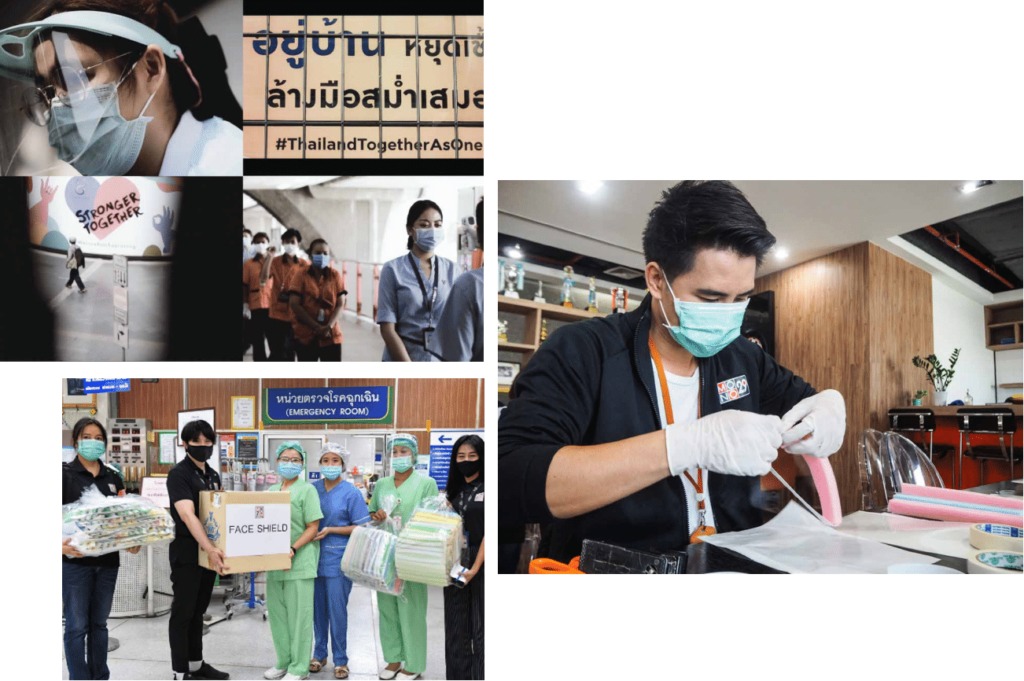 8. Creation and Dissemination of Innovations from Operations Relating to Social Responsibility
As a media and entertainment provider, the Company has prioritized the quality of communication and information, as well as the responsibilities towards the society. Every section and staff are encouraged to use their skills and abilities to serve the public as in the following activities.
MThai.com, corporate website of Mono Next, associated with National Broadcasting and Telecommunication Commission (NBTC) held the project "Up Clip Pi-Chit San Season 6" under the topic "CYBERBULLYING?" providing opportunity for teenagers and people under 25 years old to participate in short film contest regarding the expression of creativity, appropriate use of social media, and reduction of online bullying. The activity also included roadshow events to promote the project in universities along with a team of speakers suggesting tips and guidelines judgement. The works under the project will be considered beneficial to the society for further advertising.
MThai.com and Mono Next PCL. cooperated with Department of Cultural Promotion and Cultural Promotion Fund Division to launch "Project Promoting Thai values and National Identity" (Thai Dee Mee Marayat Season 2) which was a short film contest for young participants under the age of 25 to create 3-5 minutes long films under the topic "Thai Dee Mee Marayat New Normal". The project aimed to promote proper Thai manners and appropriate use of Thai language. COVID-19 related contents were also added. This project received well-feedback from students nationwide.
After the improving situation of the pandemic during September – November 2020, Mono Next and subsidiaries cooperated with Tourism Authority of Thailand held the campaign "Khon Tay Tiaw Thai" to support domestic economy and tourism in 4 regions: Sri Saket, Pichit, Ang Thong, and Song Khla. This event included quality local products fair and outdoor 3D cinema.
MONO29 channel under Mono Broadcast Co., Ltd. hosted teachers and students from Faculty of Communication Arts, Bangkokthonburi University to visit production studio, company office, world-class Basketball Stadium29. The group observed the live broadcast process of the program "The Day News Update" to gain new experience and get inspiration by learning things that are not in textbooks and classrooms. The activity also included a discussion on regional mass media partnership network cooperation. In addition, Ms. Benjawan Somsin, Senior Manager of the MONO29 TV news channel, was an honorable guest speaker for the topic "Communicators Convergence: Multi-Platform Links" held by Thai Health Promotion Foundation, Thailand Youth Institute (TYI), Eastern Creative Media Center, and other network cooperation under the project "Youth Reporters Convergence Development Program for Creating Up-To-Date Content on Health Risk and Community Healthcare News Development".
Furthermore, Mono Next and subsidiaries received the following awards in 2020.

"Tachang Tong Awards 2020" awarded to the news program "Top Talk Daily" on MONO29 channel of Mono Broadcast Co.,Ltd. for dedication as information and knowledge provider.
"Outstanding Award on Disaster News Coverage 2020 (Members of New Media)" awarded to MThai.com of Mono Cyber Co.,Ltd. from Disaster Communication Development Center of Thai Public Broadcasting Service (Thai PBS) for providing accurate and up-to-date information during the time of disasters which required cooperative communication from all media sectors.
For the full report of corporate social responsibility (CSR), please refer to Annual Registration Statement (Form 56-1). Also, update of CSR news and activities are available via www.mono.co.th/csr